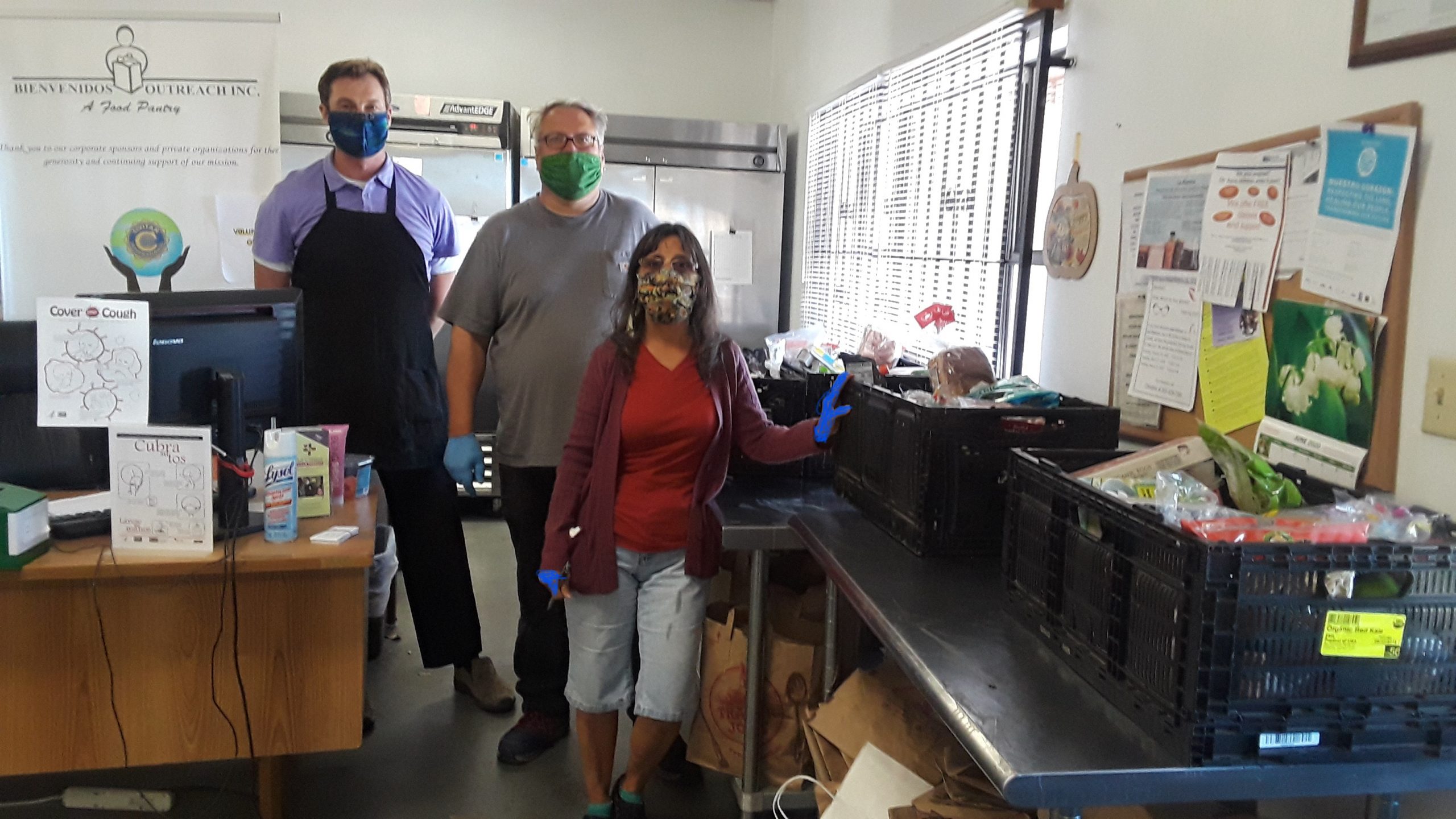 Volunteer with Bienvenidos Outreach
Volunteers are the life-blood of our organization.  We simply could not do what we do without the help of our dedicated volunteers. Individuals and groups are always welcomed at Bienvenidos Outreach! Volunteers can choose from a number of activities and hours are flexible to fit your schedule, however, a minimum of a two-hour commitment is appreciated. Some of the activities volunteers help us to do are: Monday – 9:00am-1:30pm, Tuesday-Thursday-9:00am-2:30pm
Food Box Preparation and Distribution
Lunch Sacks for the Homeless Preparation and Distribution
Clothing Room Attendant
Storage Room Organizer
Food donation Pickup: (SUV or Truck required)
Office help/Client Intake – basic knowledge of computers is desirable.
Friday – Saturday: Donated Food Pick Up and Restocking of Coolers and Shelves – approximately 2-3 hours. This position is shared among volunteers on a revolving schedule. Currently, once every 5 or 6 weeks per person/group. All pickups are within 5-10 minutes of Bienvenidos Outreach. Sunday – Sundays is a revolving group of people with either trucks or SUVs who can pick up food at places located within a short drive from Bienvenidos Outreach. New volunteers are accompanied by seasoned volunteers the first one or two times, so they get the hang of it. This is an early morning activity starting at 7:00am. Depending on load, anywhere from 2-4 hours to complete. This is a great social group activity and we encourage people to share this information with their social groups/organizations. Fund-Raising Help –  Do you enjoy organizing food drives, clothing drives, or special events? Consider helping Bienvenidos Outreach as we look for new and exciting opportunities in the field of fund-raising.  Call Susan or Erion for more information. For more information on these volunteer opportunities or if you have any suggestions of other ways you can help us, please call Susan or Erion at 505-986-0583 or fill out the form on this page and we will get in contact with you! Thank you for considering to volunteer with us!
---
Donation Hours: Donations of food, clothing, etc. can be dropped off at 1511 Fifth Street
Monday: 8:30am – 1:15pm Tuesday – Thursday: 8:30am – 2:15pm Friday – Sunday: Closed
It may be best to call ahead to be sure someone will be here to receive your items and issue you a tax-deductible donation receipt.